Update: see previous posts – April 27, 2011 Toronto to Provide Temporary $8 Overnight Parking Permit & $12 – 48 Hour Parking Permit in July, 2011, April 20, 2011 Toronto Proposes New Temporary Parking Permits (Overnighter/Weekender) as Alternative to Monthly Parking Permits
see source
Overnight On-Street Parking Permits Now Available
The City of Toronto has agreed to provide visitors with a temporary overnight parking permit at a cost of $8 and a 48 hour (known as a "weekender") parking permit at a cost of $12 to visitors or $20 for a seven-day permit, plus H.S.T. who want to avoid a $30 or $40 parking ticket.  This will help those who have little or no street parking in front of their residences and will allow family and friends to park overnight or for two (2) days (48 hours) with out the embarassment of unwanted and unnecessary parking tickets.
City of Toronto residents can now obtain a temporary on-street parking permit for their guests for either a 24-hour or a 48-hour time period.
Permits, which are required for vehicles to be parked on streets designated for permit parking, can be obtained online. The cost for a 24-hour permit is $8 while a 48-hour permit is $12 and a seven (7) day permit is $20 – plus H.S.T.
"As part of the Mayor's commitment to improving customer service, these new permits will provide more convenience, allowing guests to stay overnight or for a weekend without receiving a parking ticket," said Councillor Denzil Minnan-Wong (Ward 34, Don Valley East), Chair of the City's Public Works and Infrastructure Committee.
To get a permit, applicants need access to a computer and printer, credit card, and a couple of minutes to fill out some basic information online. The simple, step-by-step procedure can be found at http://www.toronto.ca/transportation. Weekly on-street parking permits can also be obtained through this method. Residents can also apply for an overnight on-street parking permit in person at Toronto City Hall, Etobicoke Civic Centre and East York Civic Centre. For more information about the City's parking permits call 311.
Toronto is Canada's largest city and sixth largest government, and home to a diverse population of about 2.6 million people. Toronto's government is dedicated to delivering customer service excellence, creating a transparent and accountable government, reducing the size and cost of government and building a transportation city. For information on non-emergency City services and programs, Toronto residents, businesses and visitors can dial 311, 24 hours a day, 7 days a week.
The instructions for purchasing a temporary on-street parking permit online can be found below:
Temporary On-Street Parking Permit – Purchased Online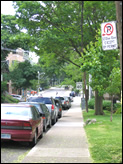 Provided space is available, a temporary parking permit may be purchased by residents and their guests to park a motor vehicle on a street designated under the permit parking program, at a cost of $18.74 per week, $8.00 per 24 hours or $12.00 per 48 hours, plus H.S.T. This program generally services those residential areas where driveways are not common.
Purchase online
A City of Toronto temporary parking permit can be purchased online. It's as easy as:
Step 1
Read and consent to the Website terms of use and then enter the temporary parking permit application. You will be advised if parking space is available. If space is available, you will be asked if you wish to purchase a permit for the duration you specified. Permits can be purchased up to a maximum of one week in advance of date required.

Step 2
Enter vehicle information and confirm that the application meets the requirements for obtaining a permit and acknowledge the conditions for use of the temporary parking permit.

Step 3
To finalize the application enter your credit card information (VISA, Master Card, American Express) and confirm that the information you provided is correct.

Step 4
Upon payment, a permit is issued along with a receipt. Print the permit and follow the instructions for displaying it on your vehicle's dashboard. Please note that if you have any problem printing the permit, your only option is to reprint the permit in accordance with the reprint instructions.
No Refunds
The City will not refund any amounts paid for a temporary parking permit for any reason including, but not limited to,
your supply of incorrect application information (i.e., address, permit date or license plate),
your inability to print the permit or properly print the permit or
a change in circumstances resulting in no further need for the permit.
Permit terms and conditions
There are requirements that have to be met to obtain a temporary parking permit and conditions that apply to use of the permit. These can be reviewed here and should be reviewed before applying for the permit.
Motorcycles and scooters
Permits for motorcycles and scooters are free, but must be picked up from a civic centre. Please contact us to determine availability.
Contact us
If you encounter difficulties purchasing your permit online, you may call our customer service staff for assistance at 416-392-7873, Monday to Friday, between the hours of 8:30 am and 4:15 pm. Or contact us by email at [email protected].
Printing requirements
You will need a printer to print the parking permit.
Your browser must be set so that images are visible.
Do not turn off Cascading Style Sheets(CSS) or use your own.
JavaScript must be enabled.
Notice
A permit that is not printed correctly may not be acceptable. To meet printing requirements, it is highly recommended you use Internet Explorer 6.0, Netscape 7.2 or Firefox 1.0.6. or higher. With other browsers, you may have difficulty viewing and printing some of the information on the pages.
A printout of an on-line version of the permit must:
Be clear and contain readable text.
Maintain the layout of the printed permit.
Contain a clear bar code.
Please note that your purchase session will automatically end 5 minutes after this web page has finished loading. We suggest that you have your licence plate number and credit card ready before you begin the session.
To proceed with the purchase of your permit you must read and consent to the Website terms of use and click the I Agree button below.