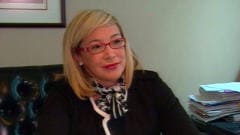 Update:
At the Montreal Municipal Court in June 2009, the Court heard Montreal lawyer, Marie-Helene Lamoureux, argued that parking tickets are legal documents which could have enough power to impound a car and all legal documents must be signed. She went on to say that the tickets generated by the City's new electronic ticketing system are invalid, given that Montreal's 206 parking inspectors, do not sign the parking tickets.
Justice Pierre G. Bouchard in Montreal's Municipal Court who heard Ms. Lamoureux's argument in June 2009 disagreed with this notion. He ruled that as long as the electronic tickets being generated and printed included the identification of the issuing agent (normally parking inspectors) that that was enough to prove that a parking infraction had occurred.
This new system of generating electronic tickets has been in place now for a year and a half and during that time, the City of Montreal has issued tens of thousands of these tickets. If, after the dust settles, it is determined that parking tickets are invalid if they are not signed, then the City of Montreal stands to lose tens of millions of dollars on those tickets issued, since this new ticketing system was introduced about eighteen months ago. The City of Montreal increased its' parking ticket fines commencing October 1, 2009.
Undeterred by Judge Pierre G. Bouchard's ruling, Lawyer Marie-Helene Lamoureux has appealed his decision to the  the Quebec Superior Court. An appeal date is coming up  in November, where  Marie-Helene Lamoureux will reiterate the same argument she made and lost in front of Judge Pierre G. Bouchard in June.
Marie-Helene Lamoureux has already announced that if she is successful at the Quebec Superior Court in November, 2009 she will utilize that decision to launch a class action suit, which potentially involve tens of thousands of motorists who received these unsigned tickets, receiving their monies back for the illegal fine they received. Most of the tickets issued amounted to a thirty dollar ($30.00) fine.
Update: April 21, 2010 – This issue has travelled through the Courts (it was lost in the Quebec Superior Court in February, 2010) and The Court of Appeal of Quebec (the highest court in Quebec and the court of last resort) has agreed to hear this case. Here is the story, but given that it is in French, I have used the Google Translator, which has translated the story below in English:
French to English translation
April 20, 2010 (Le Journal de Montréal)
New Legal Test for Electronic Ticketing
Believing that the case "raises questions of law, the Court of Appeal yesterday decided to examine the validity of the new electronic ticketing is not personally signed the Montreal Police.
"It's a great victory", launched yesterday the lawyer Marie-Helene Lamoureux, who is a truck driver who had been put one of these new tickets without a signature, two years ago for speeding.
If it is a victory, Mr. Lamoureux is still far from an acquittal for his client.
It will be recalled that in fact this lawyer, specializing in challenging violations of the Code of the road, had lost his case in municipal court in August 2009.
She was then sent to the superior court, but she had lost again in February.
Nevertheless, the Court of Appeal decided to hear the case.
"Without commenting on the chances of success of the appeal, wrote Justice Marie-France Bich, I believe that the issues that are of general interest, should be submitted to the Court, which has never actually had occasion to rule on the subject. "
Question of Law
The new findings of infringement for those who were lucky not to see, are issued in February 2008, the printers installed in patrol cars SPVM, among others.
Other police agencies use them, but added some signature of the officer's hand.
"My contention," says Mr. Lamoureux is that they are invalid because they have no signature is invalid as either a check without a signature. "
The Department of Justice does not share his opinion. For him, the electronic signature is like a traditional handwritten signature, as required by law on the legal framework for information technology.
"This is a serious issue," she said. This is new technology and the Court of Appeal decided to address the issue. "
When the Court of Appeal makes their final decision in this matter, it will be found at this link.